Avondale Body Works at Airport West
Over the last 40 years Avondale Body Works has set the standard for car repairs in Airport West. We have a team who has the skills to repair and fix any vehicle. At Avondale Body Works we only use the latest tools and technology that guarantees to provide you with the best service. We treat all vehicles as if they are our own regardless of their size, type, make, model or brand.
Hail Damage Repair using Paintless Dent Repair
We have the expertise in covering all aspects of hail damage. We use paint less dent removal method to repair cars dents and our method ensures that your vehicle will be back with you without any delays. Whether it is small or large dents, we have the skills and latest tools to ensure that you car is not just repaired rather it is returned to you in its original condition.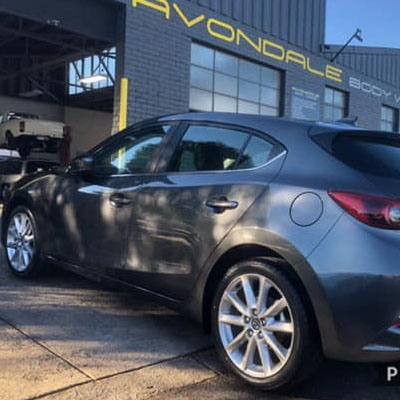 Smash Repairs and Panel Beaters at Airport West
If you have been involved in an accident that has caused extensive damage to your car then Avondale Body Works is where you need to come. Our skilled Panel Beaters and Smash Repairers promise to fix your car and bring in back to its original form. We have taken over many such projects over the years and have never failed to deliver.
Not My Fault Accident Repairs at Airport West
If you are involved in a 'Not My Fault' Car Accident then do not worry. At Avondale Body Works we make sure that our customers have the required cover to be protected in such circumstances. We have a team of professionals who have dealt with many such issues and also have the experience to make claim for 'Not My Fault' Car Accident Repair costs as well.
Car Spray Painters in Airport West
Avondale Body Works Car Spray painters have a wide experience in dealing with all sorts of painting methods and techniques that will ensure that your car gets that brand new look you desire. Our colour matching process helps you to choose the original colour or a new shade as per your requirement. Our acclaimed spray painting process ensures that our work on your car lasts long.
Why Wait? Call Now
Avondale Body Works provides the best, and the most affordable car repair service. We ensure that your car is returned to you in a pristine condition without adding any extra charges to your bills. You'll enjoy our quality and genuine service when you choose to have your car repairs done at our work shop. So now what are your waiting for? Call us now at (03) 9317 7902 or email us at info@avondalebodyworks.com.au to know more.
AVONDALE BODY WORKS SPECIALISING IN
WHY CHOOSE AVONDALE BODY WORKS
Free Quotes On-site And Off-site

Pick Up And Delivery Of Your Vehicle

Discounted Insurance Excess

Free Insurance
Advice