Car Repairs at Moonee Ponds
Avondale Body Works offers car repair services in Moonee Ponds and customers have always trusted in us given the quality service that we provide.
PDR- Paintless Dent Removal
Paintless Dent Removal (PDR) is a repair process where dents are removed while maintaining your vehicle's paintwork. Most of the times these dents are caused due to hail storms. At Avondale Body Works our skilled technicians skillfully remove these dents using specialised tools that help manipulate the car's metal panel back to its original state.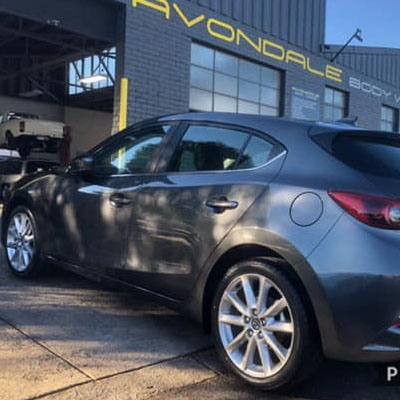 Smash Repairs & Panel Beating
The damage caused by a heavy collision can be disastrous. Most of the times a conventional workshop is not even able to get it back to its basic shape. But the Panel Beaters and Smash Repairers at Avondale Body Works know what needs to be done and most importantly how it should be done. Our Smash Repair and Panel Beating staff has a good amount of knowledge about the technicalities involved in repairing and restoring a car.
Car Spray Painters
No matter what damage your car endures, no matter how small it is, the first casualty is the paint job. What's even worse is to find a workshop with proper car spray painters. But when you visit Avondale Body Works you will realise that you have come to the right place. Our car spray painting techniques ensures that your car looks new and gets the right colour. Our car spray painters only use the best car paint brands in the market to complete their job.
Not My Fault Accident Repairs
Avondale Body Works not just takes care of the car but also its owners. If you are ever involved in an accident that you have not caused then all you need to do is to call us. Our team will deal with the insurance companies for your 'Not My Fault' Car Accident Repair claims. So if you find yourself in a 'Not My Fault' Car Accident scenario then call us, sit back and watch us work our magic.
Why Wait? Meet Us
For many years Avondale Body Works has provided quality car repair services in Moonee Ponds. If you want to know more about our services then you can call us at (03) 9317 7902 or just come over to our workshop at Avondale Heights. For any other queries you can email us at info@avondalebodyworks.com.au.
AVONDALE BODY WORKS SPECIALISING IN
WHY CHOOSE AVONDALE BODY WORKS
Free Quotes On-site And Off-site

Pick Up And Delivery Of Your Vehicle

Discounted Insurance Excess

Free Insurance
Advice