Car Repairs in Braybrook
Avondale Body Works has been providing a wide range of car repair services in Braybrook and we have built a huge customer base in the suburb because of it. Here's a look at what you get at our work shop.
'Not My Fault' Accident Repair & Assistance Service in Braybrook
These days given the rush on the road accidents have become common news. Whether the accident is big or small; you are bound to face some complications when it comes to dealing with your insurance company's paper work especially under the Not My Fault Car Accident claims.
During such unfortunate circumstances Avondale Body Works comes to your rescue with its trusted Not My Fault Car Accident Repair Services. We make sure that all your claims under the Not My Fault clause are made.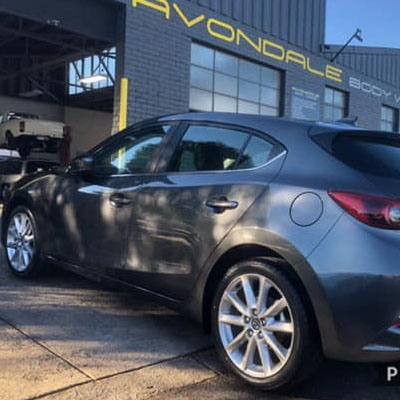 Smash Repairs & Panel Beaters in Braybrook
No matter where you are getting your repairs done, you need to ensure that the Smash Repairers and Panel Beaters working on your car are certified and licensed. At Avondale Body Works we make sure that all our staff involved in Smash Repair and Panel Beating is licensed to work in Victoria. They are skilled and have the technical know how to rebuild your car no matter how severe the damage is.
Car Spray Painting in Braybrook
Car Spray Painting is not a simple colouring job. There are many pre and post spray painting processes involved in the entire task. Our team of expert car spray painters meticulously checks and removes any aberration on the surface of the car so that the paint job is done smoothly. Even the paints that they use are mixed to match your choice of shade. At Avondale Body Works we pride ourselves in the fact that we have the best car spray painters in town.
Paintless Dent Removal in Braybrook
Hail Storms wreak havoc in ways that are unimaginable. During these storms car also fall victim to hail damage but at Avondale Body Works we have the best repair solutions. Our team of experts can repair any dent caused due to hails using our unique Paintless Dent Removal method. PDR requires a lot of skill and experience and our repair staff has enough of both.
Don't Wait, Call Us
No matter what car repair service that you are looking for, whether it is Panel Beating, Car Spray Painting, Paintless Dent Removal; we ensure to provide our customers with the best care and advice. So if you are living in Braybrook and are looking for a car repair service then call Avondale Body Works now at (03) 9317 7902 or email us at info@avondalebodyworks.com.au to know more.
AVONDALE BODY WORKS SPECIALISING IN
WHY CHOOSE AVONDALE BODY WORKS
Free Quotes On-site And Off-site

Pick Up And Delivery Of Your Vehicle

Discounted Insurance Excess

Free Insurance
Advice