Why should you Trust Avondale Body Works for your Car Repairs in Maribyrnong?
Avondale Body works has experience in dealing with various types of car repair tasks in Maribyrnong. If you want to get a better understand about why our customers trust us over the rest then read on and have your questions answered.
PDR by Avondale Body Works
Paintless Dent Removal or PDR is a skill that has been perfected over the years at Avondale Body works. We have a team of professional technicians who are adept at using the latest technology that the industry uses. Our high quality workmanship is approved and accepted by almost all the insurance companies as our restoration technique ensures that there is no visible sign of repair on the car panel.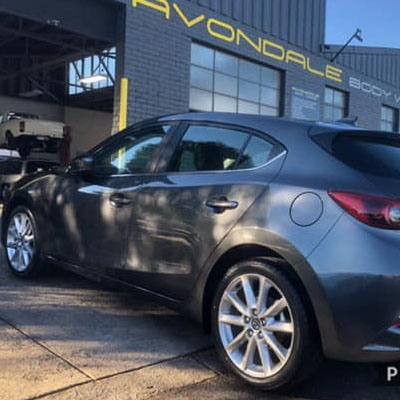 Most Qualified Panel Beaters & Smash Repairers in Maribyrnong
To be a qualified Panel Beaters or a Smash Repairer one needs high levels of experience combined with skills to take on any car repairs. Panel Beaters and Smash Repairers are also required to be licensed in the state or territory that they choose to work in. All the Panel Beaters or a Smash Repairers at Avondale Body Works are licensed to work in Victoria State.
Why should you trust our Panel Beaters &Smash Repairers?
When your car is in our care, you can be certain that it will get the best possible service. Here's what our team guarantees:
We only use high quality paints that are expertly colour matched to your vehicle.
We only use genuine parts for repairs and replacement so that your car continues to be in line with the manufacturer's standards.
We meticulously check for unseen damage so that your vehicle meets all the safety, technical and performance standards set by the manufacturer.
Whatever the model and whatever the damage, we will bring your car back to its pre-crash condition without any delays.
Car Spray Painting at Avondale Body Works
We have a great reputation car detailing which is highlighted in our car spray painting methods. Our in house car spray painters know how exactly to match the colours so that your car gets the best shade it can. We also ensure that the paints that we use are of the best brands in the market and that they last for a long time with any fading or chipping.
'Not My Fault' Car Repairs
Many of us end up in road accidents given the high rate of traffic. There are many occasion when you are not responsible for the collision and this is where the 'Not My Fault' Car Accident clause in your insurance kicks in. This insurance claim covers all your repair expenses under the 'Not My Fault' Accident Repair clause. At Avondale Body Works we have dealt with many insurance companies for this claim and have successfully managed to get car repairs done.
Get in touch with Us Now
Are looking for high quality car repair service in Maribyrnong then contact us now at (03) 9317 7902 or email us at info@avondalebodyworks.com.au. With us you are guaranteed to get the best car service in Melbourne.
AVONDALE BODY WORKS SPECIALISING IN
WHY CHOOSE AVONDALE BODY WORKS
Free Quotes On-site And Off-site

Pick Up And Delivery Of Your Vehicle

Discounted Insurance Excess

Free Insurance
Advice