Keilor East
The highly skilled and qualified technicians at Avondale Body Works provide some of the best high quality car repair and restoration services in Keilor East. Our team undertakes tasks and completes them with the kind of precision that most workshops can never deliver.
Here's a look at what our qualified Panel Beaters & Smash Repairers do at Avondale Body Works
Restoring and repairing cars involved in Large accident
Removing, repairing, and replacing panels of the vehicle that have been damaged, dented or scratched
Repairing dents caused due to hail damage or otherwise using methods like Paintless Dent Removal (PDR) and fillers
Dealing with car insurance companies &'Not at fault' claims and repairs
Realigning the chassis and body frame as per the required safety parameters
Use the right genuine parts from the vehicle manufacturer to replacethe damaged parts
Installing specialisedtech hardware such as door locks, sensors, lights, A/C and other dashboard items.
Car detailing services for all models and makes
Repainting the vehicle and matching the original colour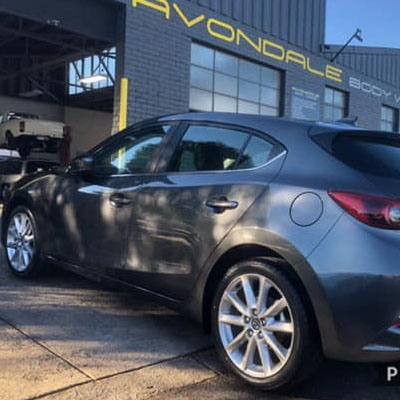 Here's a look at our 10 step Car Spray Paint process
We start off with a visual inspection of your vehicle to mark the areas which may be damaged
Any trims or lights that could affect the quality of the sprayare temporarily removed.
We use sanding and filing to ensure that the panel surfaceis flattened and evenedout after we are done fixing the damaged areas.
We remove any remaining dust and other residual particles from the surface before painting.
Area to be painted is cleaned with a special wax in order toallow better paint adhesion.
Before beginning the spray we mask the areas that won't be painted with tape or masking film to avoid spillage.
We start off the painting operation by applying few layers of base coat. The number of layers to be applied is as per the requirement of the paint job.
After drying, a few clear coats will be applied to the surface to give it a good shine.
The car will then be dried using a special technique. This ensures better adhesion and also speeds up the drying process.
Once the paint has settled the masking tape applied earlier is removed and all the parts are put back together ahead of delivering the vehicle back to you.
'Not My Fault' Claims
Dealing with insurance companies to make claims for 'Not My Fault' Car Accidents can be tough tasks. Getting your expenses covered for the 'Not My Fault' repairs is much more difficult. At Avondale Body Works we have experience in dealing with insurance companies and have a high success rate in making claims.
How to get in touch with Us
So if you are looking for high quality car repair services in Keilor East then get in touch with us at (03) 9317 7902 or email us your queries at info@avondalebodyworks.com.au. We guarantee to sort out all your issues in no time at all
AVONDALE BODY WORKS SPECIALISING IN
WHY CHOOSE AVONDALE BODY WORKS
Free Quotes On-site And Off-site

Pick Up And Delivery Of Your Vehicle

Discounted Insurance Excess

Free Insurance
Advice