Avondale Body Works- The King of Car Repairs at Avondale Heights
For over 40 years we have served the community at Avondale Heights on many fronts. This has been made possible because of our customers who have placed their trust in our skills and service. Here's a glimpse of the car repair solutions we provide-
Paintless Dent Removal at Avondale Heights
Paintless Dent Removal (PDR) is a method of repair where the dented metal is manipulated so that it can be reshaped back to its original form.  A PDR Technician should be skilled and qualified to use special tools, which includes rods, picks, and a pulling mechanism to remove the dent while keeping the paint job of the car intact.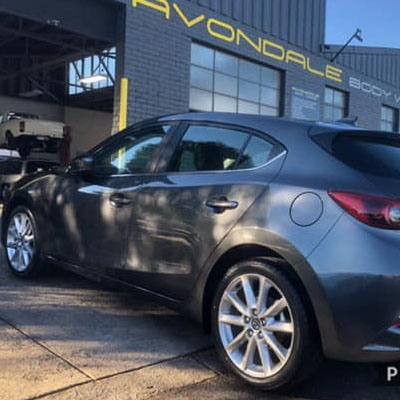 Most Qualified Panel Beaters at Avondale Heights
Modern day cars possess a lot of new technology that is constantly upgraded. Panel beating involves repairing and replacing damaged panels, spray painting, chassis alignment, and refitting hardware- both mechanical and digital. So it is important to have a Panel Beater who is well trained.
Panel Beaters are also need to have the adequate accreditation for the state or territory they operate in. At Avondale Body Works guarantee you that all our Panel Beaters are licensed to work in the state of Victoria.
The Best 'Not My Fault' Accident Repair Service in Avondale Heights
When you find yourself in an accidentyou are bound to face a lot of inconvenience that consumes time and money. This is where Avondale Body Works' Not My Fault Accident Repair and Services comes in handy.
With us by your side all your problems will be solved with just a phone call. We promise to take care of all your car repairs, replacement and insurance needs without any hassles.
Top Class Smash Repairers at Avondale Heights
When your car is in our care, you can be certain that it is being worked upon by a team of certified professional smash repairers. Our team guarantees:
Useof genuine parts for repairs and replacement
Meticulous checking for unseen damages
Whatever the damage, we will bring your car back to its pre-crash condition without any delays.
Car Spray Painters at Avondale Heights
Avondale Body Works has the best car spray painting facility that ensures that your car gets the best paint job regardless of its make and model.
We also have a reputation of returning your car quicker in comparison to other services. This is made possible because our spray paint technique reduces the paint drying time significantly.
We also use a computer based color matching system to retain your car's original colour.
Contact Us
If you are still asking yourself whether you should choose us, then come over and meet us at our workshop. We are located at 3/49 Military Rd, Avondale Heights. You can also talk to our experts at (03) 9317 7902 and have your queries answered.
AVONDALE BODY WORKS SPECIALISING IN
WHY CHOOSE AVONDALE BODY WORKS
Free Quotes On-site And Off-site

Pick Up And Delivery Of Your Vehicle

Discounted Insurance Excess

Free Insurance
Advice